"Ever since my freshman year"
at East Career and Technical Academy as a marketing, House 2 (woohoo!), student I knew that one day I wanted to become someone important in the industry, a CEO or President maybe? As the years progressed and I continued in my major, I got to learn more about the hospitality industry and it was then that I made it my goal to one day work for one of the two biggest gaming and hospitality companies in the world.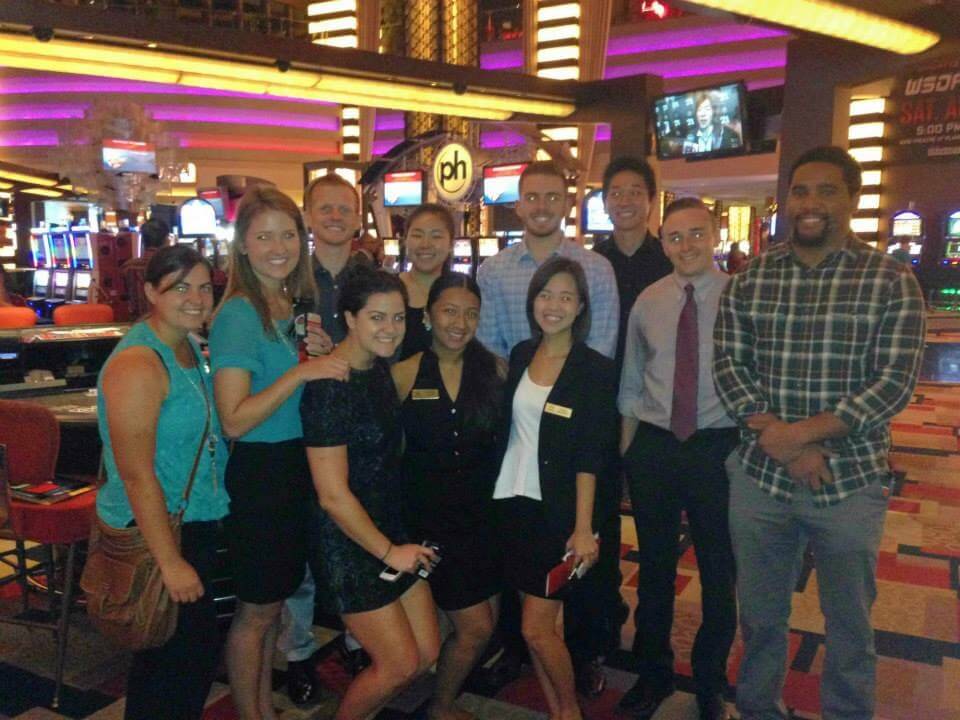 THE TRANSITION
Transitioning from high school to college I knew that I wanted to continue my education in marketing and so I enrolled into UNLV and chose to pursue a BSBA in marketing. There were many times that I felt my goal was too farfetched and I had no idea where to start. It wasn't until my junior year in college that I started thinking about internships, and quickly regretted waiting so long to start looking. I applied for many and felt that time was winding down, until I stumbled upon a marketing internship for Caesars Entertainment.
I applied even though the deadline was coming up fast, at the moment I truly doubted any chance of getting a call from them. I got a call about a couple days after I submitted my application from the internship coordinator of the marketing team for the Meeting and Events department at Caesars Entertainment. I did a phone and in-person interview and was offered the job a couple days following the in-person interview.
INTERNING AT CEASARS ENTERTAINMENT
It was a 10 week, full-time, unpaid internship; which meant I would work eight hours, five days a week as an intern and still have to go to my regular job after. I thought twice about it because I didn't want to overwork myself but I knew it was way too great of an opportunity to pass up, so I took a leap of faith an accepted the offer.
The program was amazing and I learned more than a regular classroom could ever teach me.
I worked alongside real professionals in the industry and got to see firsthand what it took to put a huge event together.
I developed my writing, creativity, and communication skills thanks to the various projects my supervisor assigned me.
I was taught how to use marketing platforms and tools that are widely used in the industry in order to get projects done.
I was given the opportunity to recreate a brochure they already had and develop a brand new idea, presented my idea for approval, and implemented it.
MOVING FORWARD
The real world experience that the internship provided me just ensured my decision to continue my career in marketing and gave me the confidence boost I needed to kick start my career. Although, the most important thing was that I networked with so many amazing and knowledgeable people that I learned so much from. I believe that this was the most valuable lesson that the marketing team for Meeting and Events could have ever taught me. A couple weeks after I finished the program I got a call from my former supervisor at the internship about another department looking for a part time paid intern and she thought I would enjoy it. I told her I'd love to check it out, but before I knew it, I was having another phone interview. They mentioned that being highly referred from another department made me an excellent candidate for the internship they were planning. I figured it would take a couple weeks to get started but next thing I knew I was setting up my new work space. Up until this day I still keep in touch with many of the people that I have met because of the amazing opportunities Caesars Entertainment has provided me.
NEVER GIVE UP
I find it hard to believe that just last summer I had no idea where to start and here I am beginning my career before I even graduate. What has kept me going thus far could be summed up into a quote from Richard G. Scott, "don't give up what you want most, for what you want at the moment". Even if your dreams or goals seem farfetched, do everything you can to make them happen because you'll soon realize they're closer than you think.